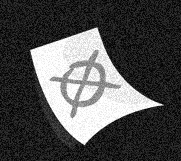 The so-called "exit button",
as shown without back drop.
By Benjamin Banjo
Word is that main part of the movie "A Case of Hart" contains a interactive "exit-button".
"Button" is here defined as a device integrated in the movie's set pieces. Activated with a click of the mouse it can stop the whole show.
According to source the show-stopping device contains a possibility
fabricius+holm
for the user to regret and return to the abandoned point in the story.
Further more it is reported that the "button" has the design of a piece of paper with a overcrossed circle (in the colour of red).
The mentioned sign is the widely reknowned symbol for the concept of "exit".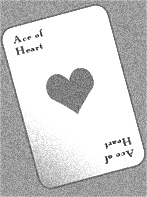 The mysterious Ace of Heart.
By Oskar Lavaer
The new main feature in glorious technicolors, "A Case of Hart", is more than something to be played, it is to be played with.
In fact it is that new deal, a "point and click game", so called because you first point at what you wish and then you click.
That way it is the user's own choices that not only makes the story flow, but decides it's course.
fabricius+holm
Action takes place around truly hard-boiled private detective Ham Hart (not to be confused with fellow-dick Sam Spade (ed.)), and his daring hunt for a missing playing card.
Case is that this card - a Ace of Heart to be exact - hides on it's back a message that by no means must end up in the wrong hands.
(To be continued)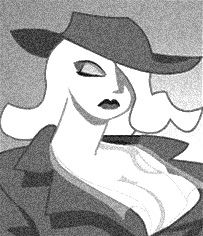 Delizia Madman,
mysterious blonde (in distress).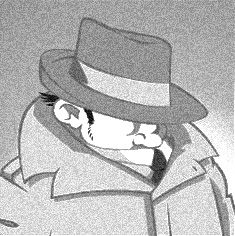 Hammet "Ham" Hart,
private dick and hero.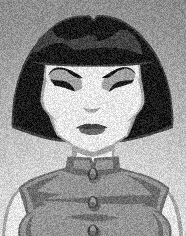 Dr. Lol Li Pop,
very mysterious China Doc.